In continuation of my last post I will place here beneath a lineage showing the descendance of Ida Elisabeth Bothenius (married to Jan Lohman) from the humanist Guillaume Budé. This is a quite interesting descendance story.
From France descendants went - amongst others - to Geneva, to openly practise Calvinist faith. From there, descendants went to Leiden, to teach at University. Since then, descendants live in the Netherlands.
Guillaume Budé (1467-1530)
I. Guillaume Budé, seigneur de Marly-la-Ville, etc., born at Paris 26 January 1467, died at Paris 23 August 1540. Influential humanist, son of Jean Budé and of Catherine le Picart. He married to Roberte le Lieur, converted to Calvinism at Geneva, died Geneva 15 april 1550, daughter of Roger le Lieur and of Isabeau de Lailly.

II. Marguerite Budé, born 1530, died at Geneva 27 April 1618. She married Guillaume de Trie, merchant, born at Lyon, Calvinist, one of Calvin's correspondents, died at Geneva in 1561.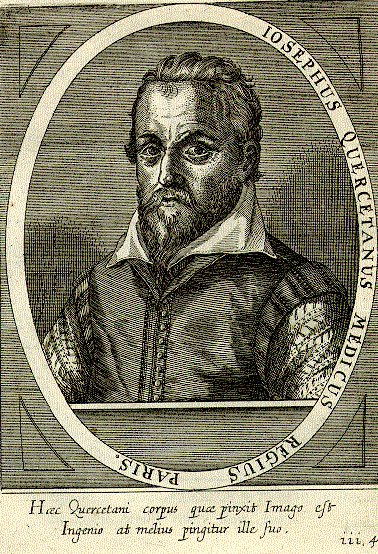 Joseph Duchesne (-1609)
III. Anne de Trie, married (1) Matthieu de Sève, échevin at Lyon, who died 1572. She married (2) to Joseph Duchesne, (Josephus Quercetanus), seigneur de la Violette, an alchemist, physician, firstly of Francis, duke of Anjou, later for Henry IV. He also was diplomat with missions in Switzerland. He was born in Armagnac, became Calvinist, and died in 1609. He was follower of Paracelsus and wrote about alchemy.
IV. Jeanne Duchesne, dame de la Violette, married to Pierre du Port, seigneur du Mouillepied.
Older books mention Jeanne as married to Joachim du Port, with Pierre as their son, but this is chronologically tight, and newer books only show her as married to Pierre.
Friedrich Spanheim (1600-1649)
V. Françoise-Charlotte du Port, born in Paris, died at Geneva in 1648. She married Prof. Friedrich Spanheim, theologian and philosopher. He first became professor philosophy at the University of Geneva. In 1642, he moved to Leiden to teach theology at Leiden University. He believed strongly in the Calvinistic principle of predestination, which he defended against Amyraut. Friedrich Spanheim was born in Amberg, 1600, and died at Leiden in 1649. He was son of Wigand Spanheim, a theologian, and of Renée Tossanus, daughter of Daniel Tossanus, also a theologian.
Among their children were Ezechiel Spanheim and Friedrich Spanheim the Younger. We will continue with the less important of the brothers:
Henricus Geldorpius (1600-1652),
father of Ida Geldorpius.
VI. Andreas Spanheim,

land agent in Groningen, baptised at Leiden 8 May 1643, died in 1727. He married at Amsterdam in 1681 Ida Geldorpius, baptised at Amsterdam 19 February 1645, daughter of Henricus Geldorpius, a preacher, and of Neeltje Elberts Pool.
VII. Elisabeth Catharina Spanheim, baptised in Groningen 23 October 1683. She married Louis Bothenius, mayor of Groningen, baptised at Groningen 12 August 1677, son of Dr. Henricus Bothenius, a philosopher, and of Adriana Trip, from the rich merchant family.
VIII. Ida Elisabeth Bothenius, baptised at Groningen 7 April 1706, died 12 March 1756. She married Jan Lohman, a colonel, born at Groningen 18 July 1701, son of Hendrik Lohman and of Elisabeth Tammen.
They have living descendants.